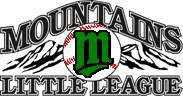 By Susan A. Neufeld
Mountain Communities – Mountains Little League has registration now under way for the Spring Season.
Mountains Little League is dedicated to the fundamental values of teamwork, dedication and respect. Teamwork is a key element in any organized sport and MLL is all about teamwork. Dedication is something we promise to all of our kids. We promise to dedicate our time and understanding to them in their journey with our league. Respect is something that is taught everyday during the season. Respect for the game, for teammates, for coaches and for officials. Please join us for the 2018 Spring Season .
HOW TO SIGN UP
You can sign up on line at: Mountain Little League Sign Up, or come to one of the physical locations listed below:
January 27, 2018,  9:00 a.m. – 12:00 p.m. at Rim High School Gym in Lake Arrowhead
January 27, 2018, 9:00 a.m. – 12:00 p.m. at Rocky's Roadhouse in Running Springs.
TRYOUT LOCATION AND DATES ARE:
February 3, 2018 12:00 – 2:00 p.m. at MPH ( Mary Putnam Jr. High) Baseball ages 7-10
February 10, 2018 :00 a.m. – 1:00 p.m. at MPH ( Mary Putnam Jr. High) Baseball ages 11-16
February 17, 2018 11:00 a.m.-1:00 p.m. at MPH ( Mary Putnam Jr. High) Softball all ages.
VOLUNTEERS NEEDED
Every year the league is in need of volunteers. They need managers, coaches, Team Moms, Board Members, umpires and score keepers. If you are interested in any of these positions please, please contact Mountains Little League for a volunteer form, or download the Form here, and return it to any of the above locations during sign ups or try outs, or you can email a completed form to mountainslldistrict43@gmail.com. If you're a returning volunteer, please use this Form instead.
None of this is possible with out VOLUNTEERS.