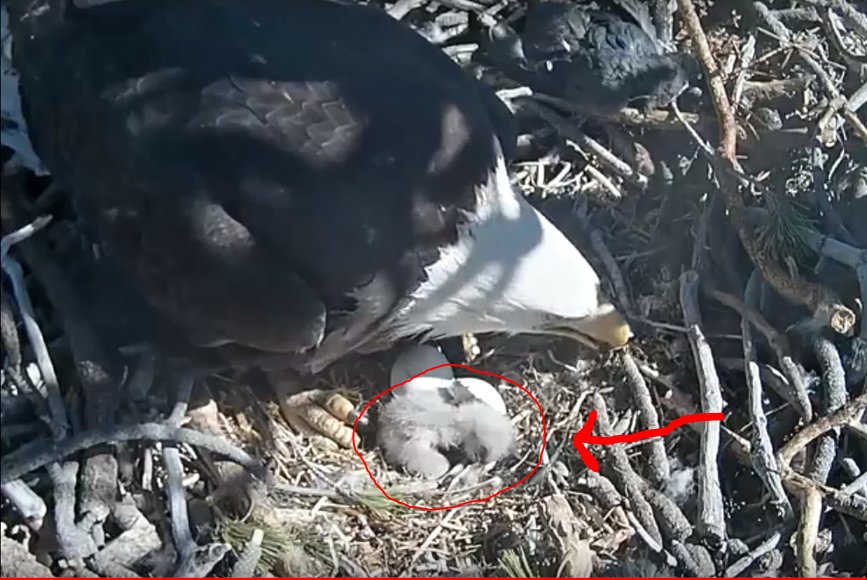 By Susan A. Neufeld
UPDATE 1 – Sunday February 11, 2018
At approximately 9:57 a.m. Sunday February 11, 2018  the first of two bald eagle eggs hatched. The hatching was watched on the live streaming "nest cam".
The second egg which was laid three days after the first is expected to hatch in the next few days.
The pair of eagles took turns on the nest during the 35 day incubation period, including through a snow storm.
ORIGINAL STORY
Big Bear, CA – As the next bald eagle count of 2018 approaches, all eyes are on the nest of a pair of bald eagles at Big Bear Lake. The anticipated hatching of the two eggs is expected by the end of this week.
The eagles can be viewed from the "nest cam" at http://www.iws.org/livecams.html (select "Big Bear Eagle Cam, Big Bear Lake).
The public is invited to join local biologists on Saturday, February 10, 2018 to help count bald eagles wintering around six Inland Empire Lakes. Observers meet at one of the count locations for a short orientation, and then they proceed to their observation sites where they record their observations between 9 and 10 a.m. Then they return to the meting location to turn in the data sheet. The biologists use this data to determine the minimum number of eagles in the area.
No experience is needed. Signing up ahead of time is unnecessary- just show up at the designated tim and location, dress warmly, bring binoculars and a watch. Information on the  different eagle count sites follows:
Big Bear Lake area meet at 8 a.m.at the Forest Service's Big Bear Discovery Center, on North Shore Drive in Fawnskin, for orientation.
 Lake Arrowhead/Lake Gregory volunteers will meet at 8 a.m. at the Skyforest Ranger Station for orientation.
Silverwood Lake State Recreation Area volunteers should plan to meet at the Visitor Center at 8 a.m. for orientation.
Lake Hemet volunteers will meet at the Lake Hemet Grocery Store at 8:30 a.m. for orientation.
Lake Perris State Recreation Area volunteers  meet at the Lake Perris Regional Indian Museum at 8 a.m. for orientation.
The annual bald eagle counts take place every winter for four months. The last count of the season takes place Saturday, March 10, 2018.