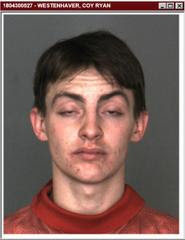 By G. T. Houts
Lake Arrowhead, CA – On April 11, 2018, at approximately 5:45 p.m., deputies from the Twin Peaks Station responded to the 140 block of Rockledge Lane in Lake Arrowhead, for a possible burglary in progress. Employees from the Lake Arrowhead Chalets discovered one of their condos at that location had been broken into and a male was still inside. Deputies responded to the condo and found Coy Ryan Westenhaver, a 20 year old resident of Lake Arrowhead, inside the residence.
Westenhaver forced his way into the residence by prying open the kitchn window and climbing inside. During the investigation, deputies located a backpack full of suspected stolen property, a prybar, cutting tools, several sets of keys and a newer "Scott Mountain Bike.
During the investigation, deputies were able to link Westenhaver to  an additional burglary on Primrose Circle in Lake Arrowhead, which was reported earlier in the day. Deputies also recognized Westenhavers shoe tread as the same tread pattern located during a burglary investigation at Thousand Pines Camp in Crestline, the prior day.
Westenhaver is believed to be responsible for multiple burglaries and thefts in the communities of Lake Arrowhead and Crestline over the past few months. Westenhaver was arrested in February for possession of burglary tools, and in January for possession of a controlled substances. Westenhaver had been out of custody, released on his own recognizance for a felony arrest in January of 2018, and cite released in February 2018, for an additional arrest for possession of burglary tools.
Westenhaver was booked into the Central Detention Center on two charges of burglary and for committing a felony while released from custody on his own recognizance. Anyone with information on the various thefts or Westenhaver is urged to contact Deputies Jonathan Cavender, Victoria Collins, or Sonia Olivas at the Twin Peaks Station (909)336-0600.